Open the Planner
Enter the URL in the address bar of your browser.
Log in with your user name and password to access the Planner user interface.
If you have already created publications, the recently edited ones are displayed here.
Planner user interface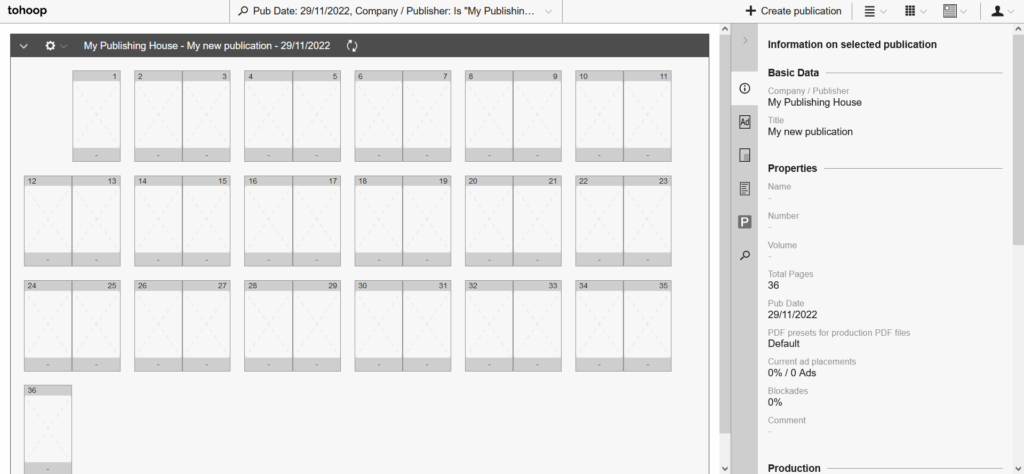 The user menu is located in the upper right corner of the Planner.

To the left of the publication title in the publication header is the publication menu.

If you select a page of a publication, you will find the page menu to the left of the input fields in the publication header.
Create new publication
A publication is the page plan of a publication, e.g. the issue of a newspaper, a supplement or a brochure.
Click the Create publication button in the header of the Planner. A dialog box appears.
Enter Company / Publisher, Title / Edition, Total Pages, Publication Date, page width, page height and margins of the new publication.
In the remaining fields you can enter additional, optional information about your publication.
When your entries are complete, you can create the publication by clicking the Create button.
Change scope
Select Change publication in the publication menu.
Enter the desired number of pages in the Total Pages field.
Confirm the change with Create.
If you click on a page of an existing publication, you can also add or remove pages via the publication header.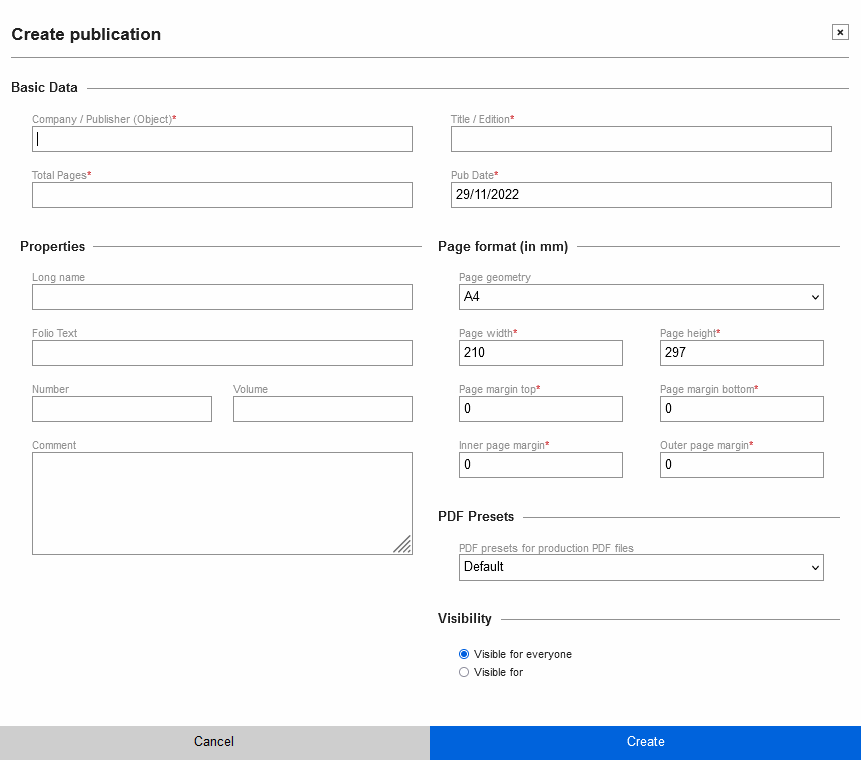 Edit publication
Select Edit publication in the publication menu. Here you can edit the data you specified when creating the publication.
Confirm your changes with OK.
Duplicate publication
Select Duplicate publication from the publication menu.
A dialog box opens in which information such as the title of the publication can be adjusted. In addition, you can choose whether existing sections, topics, InDesign documents and blockades should also be transferred.
Confirm the process with the Duplicate button.
Delete publication
Select Delete publication in the publication menu.
Confirm the process with Delete.